How To Be Parisian Wherever You Are
12:30:00 AM
Hello everyone and happy Friday morning/afternoon/evening, whenever you are reading this! For today's post I decided to do a review of one of my favorite books I read last year: How To Be Parisian Wherever You Are. I got it last year for Christmas and I loved it so much, I read it in a single breath on one very cold and cozy December evening. As I was looking through my bookshelf, I spotted it again and remember just how much I loved it, so I said why not do a review on it and share it with you?

How To Be Parisian comes from the pen of four stunning and accomplished French women and it has a fresh and spirited take on what it really means to be a Parisienne: how they dress, entertain, have fun and attempt to behave themselves. These four women are Anne Berest, Audrey Diwan, Caroline de Maigret and Sophie Mas who are actually best friends in real life and they decided to write this book together. They give really genuine lifestyle and beauty tips, recipes and fashion dos and don'ts. In a way I was also inspired by them to start this blog, because they wrote about everything I loved!


It is such a fun, entertaining and easy read, I bet you would enjoy it! Another thing that got me immediately hooked on it is the quote which starts of the book: '' The truth is out: Parisiennes aren't privy to a secret 'skinny' gene, they aren't always easy to be with and aren't all perfect mothers. In fact, they are very imperfect, vague, unreliable and full of paradoxes. But they can also be funny, attentive, curious and ironic, and they know how to enjoy life. '' That instantly sold me and I knew I would enjoy this book. And I was not wrong, I loved this funny, witty and also very heart-warming book so much! The next thing that I found so funny and lovely were the aphorisms. There is a page full of them and they are so hilarious and also quite useful. A few I really loved and that stuck with me are:
'' If you only own one sweater, make sure it's chasmere '',
'' Be aware of your qualities and your faults. Cultivate them in private, but don't obsess '',
'' Make it look easy. Everything you do should seem effortless and graceful '',
'' Be your own knight in shining armour ''
'' Fashion rules the world, and Parisians rule fashion. Fine, it may not be true. But the world still needs fairytales ''
This book really wasn't like anything I ever read, and that is because of the way the stories are told. They are beautiful, light, heart-warming, joyous and hilarious. It really feels like you're having a conversation with your friend over a cup of coffee. You know that beautiful, elegant, classy Parisian friend who can give you all useful advice while making everything seem so easy. Sadly, I do not have that friend, but this book is an incredible substitute. Also, I didn't mention, that in it, there are such beautiful photographs, which make reading it seem even more enjoyable.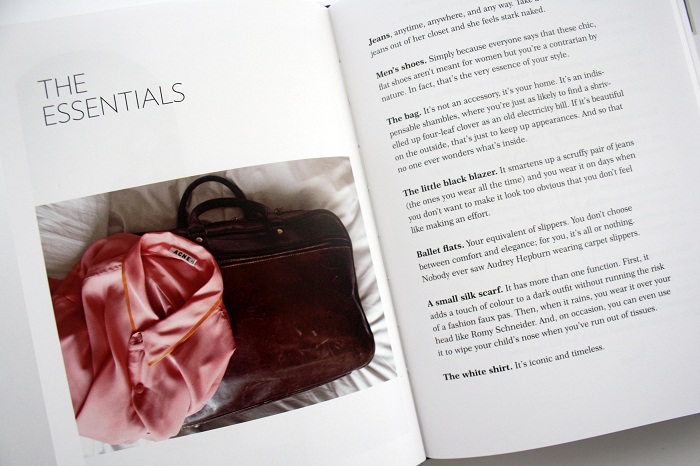 How To Be Parisian wherever you are is such an incredible book which would make a perfect present for someone who likes fashion, beauty and loves the Parisian lifestyle. It is also a perfect coffee table book, because it is so pretty on the outside as well as on the inside. You know as they say, you don't have to be French, to be a Parisian.
And the best thing about it? By the time you get to the last page, you realise one very simple thing- you already have got a little bit of Parisienne in you. Wherever you are.
Love, M x