Top 30 TV Shows To Binge Watch
2:06:00 PM
In one of my previous posts (
Have A Perfect Summer
), I said one of my favorite activities is binge watching TV shows, and I was not lying, believe me! Whenever I have free time, especially now as it is summer, you can find me glued to my laptop screen with some snacks. I know this probably makes me sound like I am a bit too obsessed, but that is simply the truth. In my own ''modest'' opinion, I would say I am a TV show expert (haha, just joking) and I really know some good ones! So today, I have for you, a bit of a master post on my favorite TV shows, so grab a cuppa and some snacks and enjoy! Here are the ones I have enjoyed the most (some are old, some slightly newer), I hope this gives you some ideas on what to watch next, when you are bored and stuck, also I will not be giving away any spoilers and I have included a bit of something for everyone :)
1.
Friends
-
First one had to be Friends, a simple classic. You have all probably watched this one and you can recite the episodes by heart (I am not afraid to admit that I can) and love every character! Friends is funny, hilarious even, heart-warming and simply wonderful. Also very comforting, if I ever feel sad or down, I put on an episode of Friends and it never fails to make me smile. An ultimate fave, for sure!
2.
Pretty Little Liars
-
Another absolute favorite! I stared watching Pretty Little Liars back when they first started in 2010 and I have not stopped loving them ever since! It's about four girls who are best friends and the fifth one,the leader of the group goes missing, I won't tell you more than that. You may think it's just a girly teen drama, but it is so much more than that! It has romance, family dynamics and the importance of friendship. It is very intense, sometimes a bit scary, very thrilling and interesting. I enjoyed it so much, I convinced my friends to watch it too, and they became obsessed as well! Also the fashion of the show is amazing and I just love it!
3.
Modern Family
-
Modern Family is a show I am certain all of you will love! It is about three families who are all related and their relationships and dynamics. It is hilarious, I always laugh so hard when I watch it, very witty and it has excellent writing. Makes you feel all warm inside when you watch it, and it's simply the best. If you need a feel-good, cozy TV show to make you smile, definitely try out Modern Family!
4.
Once Upon A Time
-
I started watching it since the first episode came out and it has not let me down since! Once Upon A Time is about all of your favorite fairy tales you loved when you were younger, but with a little twist! It is just amazing, filled with inspirational quotes, clever parallels, simply magical! It is also very comforting, enjoyable and cozy. You will recognize so many of the characters from your favorite bed time stories, but the way they are in this show will leave you amazed. Firmly recommending it to all of you Disney and fairy tale lovers :)
5.
Gossip Girl
-
Gossip Girl was one of the first TV shows, I properly got into and it remains forever a favorite! Manhattan teens and their life, relationships and struggles will leave you hooked! My love for New York grew stronger after I watched this show, and it has given me so much fashion inspiration and envy ( Blair Waldorf is simply a queen)! It is so fun and interesting, it has a great story line and the soundtrack is perfect! It has everything I love in a TV show and the characters are my favorites! Even though, the ending was slightly disappointing,I loved it anyway! I even shed a few tears when the last episode aired, and that is telling you something.You know you love me, XOXO Gossip Girl
6.
How I Met Your Mother
-
I know you have surely loved and heard of this one, as well, and if you haven't, you should! Really funny and witty, I just love it. It is kind of similar to Friends, but some of their jokes and one liners will have you on the floor laughing! It is really heart-warming, at times incredibly sad and tear-jerking, How I Met Your Mother will not disappoint you! You will get attached to the characters and love them just as much if they were real, at least I did! :)
7.
The Vampire Diaries
-
Another one, that has become a classic these days. Elena, Damon and Stefan have become house hold names and everyone loves them. Really romantic, it has so many couples you will be rooting for (to get together or to break up) and the story line will leave you breathless. It is really interesting, at times sad and heart-breaking ( I cried many times watching it). Although, honestly I feel like they are dragging out the story line a bit with this last season, but the first 4 season are a definite must for me!
8.
Game Of Thrones
- '' When you play the game of thrones, you win or you die ''.
Based on the brilliant book series by George RR Martin, Game of Thrones is in my opinion the best! Set in the world of dragons, royalty fighting for power, it is incredible! It is so well written and produced, will always have you at the edge of your seat. It is so intense, so sad and it genuinely plays with your heart strings as they spare no one (my advice is to not get attached to any characters!). So so amazing, an awesome binge watch with your friends, maybe not watch it alone, unless you're really brave haha :)
9.
Merlin
- Merlin is a BBC TV series that I really loved and enjoyed while it was airing! Set in the fantasy world of knights, wizards and magic, Merlin will put a spell on you and you won't be able to stop watching it! It is really enjoyable and entertaining, and I'm sure you'll love it.
10.
The Carrie Diaries
- I adored this show! It all about Carrie Bradshaw before she became famous,her teen years and it is set in the 80s! The fashion is amazing and I have gotten so much inspiration from this show! It was simply the cutest, the characters and the story line are lovely and it is a shame it only lasted for two seasons. That actually makes it perfect for binge watching, I watched the whole two seasons in three days!
11.
New Girl
-
Another adorable comedy show which you'll fall in love with! New Girl is about a girl called Jess who moves into an apartment with three guys and all about how develop their friendships. The jokes are really funny and Jess and Nick are the cutest, I would definitely recommend it to you!
12.
Grey's Anatomy
-
I know what you're all thinking, we've all heard of Grey's anatomy and we already know everything about it! But I just had to put it in, because it is wonderful, full of valuable lessons and so heart-breaking! I literally cried actual tears watching it and I love it so much! If you haven't already watched it, I honestly suggest you should, because it is great, but make sure you clear out your schedule, because you'd have 12 seasons to catch up on!
13.
Monk
-
A bit of different show than the previous ones, but just as great! It is about a detective Adrian Monk who suffers from obsessive compulsive disorder and everything has to be clean and tidy around him! It is hilarious , really witty and interesting!
14.
Hart of Dixie
-
A TV show which I got into last summer and absolutely loved! It is about Zoe Hart, a doctor from New York who moves to the country side to treat patients. It is also really sweet,romantic and it features Rachel Bilson, one of my favorite actresses! Very cozy and comforting, perfect for lazy Sundays :)
15.
Charmed
-
An oldie, but still a goodie! Charmed first aired back when I was in second or third grade, and I remember my friends and I being obsessed with it, though looking back now we definitely shouldn't have watched it, because it was quite scary! Charmed is still one of my faves and I would surely re watch it again as I am sure I would remember most of the lines :)
16.
Sherlock
- Another BBC drama and detective show which is so clever and interesting. Some of the things that happen are so mind-blowing and thrilling, I have enjoyed every single episode! Also Benedict Cumberbatch is an amazing actor!
17.
Ugly Betty
- Ugly Betty is so wonderful and it reminds me of the good ol', sixth or seventh grade times, back when I first watched it! It is absolutely hilarious, every single episode was so great and actually really inspiring, a must watch for me!
18.
One Tree Hill
- A classic! Wonderful teen drama with lovable characters and great story line! Also the actors are incredible and it is simply amazing! It dealt with important issues, and that is one of the reasons it was so great! Also amazing quotes, and the one that sticks out in my mind is: '' It's the oldest story in the world. One day you're 17 and you're planning for someday. And then quietly without you ever really noticing, someday is today. And then someday is yesterday, And this is your life. ''
19.
The O.C. (Orange County)
- If you loved One Tree Hill or Gossip Girl you'll definitely enjoy this one! It was a bit too dramatic for my liking at times, but still the characters were lovely and I was rooting for them at all times! Great TV show if you want to reminisce on high school and the teenage years :)
20.
Joey
-
A sequel to Friends about one of the main characters Joey. If you loved Joey, his hilarious one liners and the iconic '' How you doin' '' you'll really like this show! It is quite funny and sweet, but nowhere near to Friends :)
21.
Will and Grace
-
An oldie, I wasn't even born when this show aired, but I watched it a couple of summers ago and enjoyed it so much! It is so funny, relatable and lovely, the characters are great!
22.
Desperate Housewives
-
A TV show I watched with my mom and we both loved it so much! It has a little bit of everything in it, it was funny, but also at times serious, inspiring and dealt with important life problems and the importance of family bonds and friendship. Also Gabriella Solis is one of my favorite characters ever :)
23.
Teen Wolf
-
I had seen all over social media about this one and decided to give it a try! It is not your typical teenage drama, it has some supernatural creatures in it and also faces some interesting and important topics. Also Dylan O'Brien, all i got to say :)
24.
Greek
- Another oldie which I loved when I was really young and I wish I could re watch it. It was just the best and it made me want to be older and go to college. I would also recommend this one for binge watching when you're stuck on what to do next, I promise you won't regret it :)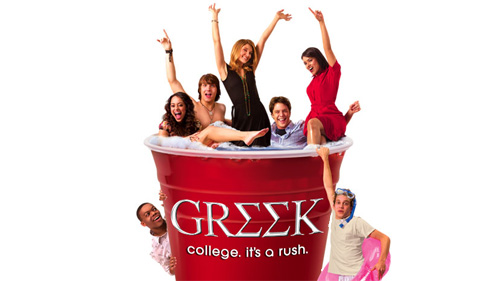 25.
Orange is the new black
-
A Netflix binge watch everyone is obsessed these days, I'm sure you've seen the social media buzz about it. Amazing TV show filled with awesome characters, the only bad thing is you watch all episodes in one or two days, and then you have to wait another year for them to come out :)
26.
Keeping Up With The Kardashians
- I know, I know, don't judge me please haha! KUWTK is my ultimate guilty pleasure, but I just love them! The Kardashian family are my secret faves, especially Kendall and Kylie I absolutely enjoy watching them because they are hilarious! This may not be for everyone, but I just really like it :)
27.
Dance Moms
-
Another reality TV I absolutely adore! My best friend got me hooked on them and LOVE it! I mostly watch it for the girls, because they are so talented and professional at a such a young age! However the moms drama is sometimes too much for me, but I still can't stop watching it. If you haven't yet got into it, I think you should and you will definitely recognize some familiar faces like Maddie Ziegler who is my ultimate fave and a global star at the moment!
28.
American Crime Story: OJ Simpson Trial
- Jumping to more serious topics, this one is a completely new show, I got into recently. It is more of a grown up TV show that presents the story of the famous football player OJ Simpson who faced charges of killing his wife and her friend. It is so realistic and fascinating, I was glued to the screen! It only has 10 episodes and they are so powerful and done in such a realistic way I'm sure you'd love it, also if you are a fan of more of a documentary TV series, this one is definitely for you!
29.
Revenge
-
Another one of more serious show, which is a bit gory and scary! I definitely enjoyed it, but I haven't watched the last season. I suggest you watch the first two seasons, they are so amazing, but don't watch it while you're home alone, it's better to have a friend around!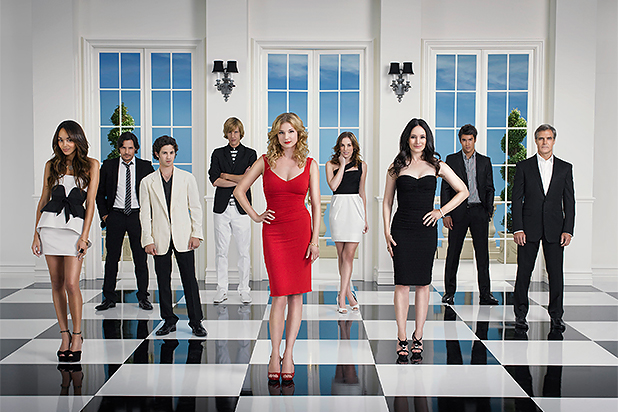 30.
Scream Queens
-
My newest and biggest obsession! Season 1 is the best and I am so excited for season 2. It is a mixture between Pretty Little Liars and American Horror Story and it is kind of scary, but mostly hilarious, awesome jokes. Also, the cast is perfect, it has Ariana Grande, Emma Roberts, Jamie Lee Curtis, Nick Jonas and many others. You have to watch it, and report back to me if you liked it so we can discuss it and get excited about season 2!
And *takes a long deep breath*, you have made it to the end! I hope you guys enjoyed this looong post and it has given you some inspiration on what to watch next. If you have watched any of these or plan to watch them, write to me in the comments, I would love to know your opinions! I have certainely loved writing this, as discussing TV shows is one of my favorite things to do, so I am glad I had this outlet :) Until next time! Love, M xxx