Top 10 Favorite Summer Candles
11:00:00 AM
Candle lovers unite! Who doesn't love a pretty-smelling scented candle? I know I sure do, and I am also a tad obsessed with them! Bath and Body Works, Yankee and Anthropologie are my favorites to shop for candles and they are my go to whenever I need a nice little gift for a friend or just to treat myself. For summer the best smells would be fresh and clean ones, so today I present to you some of my favorites that I use to indulge in summer!


Photo taken from Pinterest
1. Illume Green Anthropologie Candle
- Number one pick is this gorgeous candle from Anthropologie. It is just stunning enriched with the smell of green apples, lemons and parsley. It smells amazing, reminding me of my grandmother's fresh summer garden which is one of the reason I love it. If you are in the mood for a fresh, pleasant smell, give this candle a try! Also, its beautiful copper holder is a bonus too.It will look so pretty on your living room or mantelpiece.
2. Illume Good Nature Soy Candle
- Another Anthropologie candle that is as pretty looking as it is smelling! The Good Nature Soy Candle is luxuriously scented candle which smells of apricot and basil. Giving the smell of the freshly picked fruits and herbs,you'll feel like you are in an enchanted garden!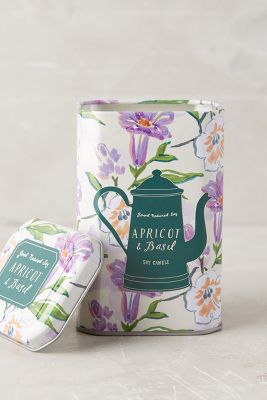 3. Yankee Candle Summer Scoop
- Moving over to my favorite brand of scented candles, my next choice has to be the Yankee Candle Summer Scoop. This one is simply summer in a bowl! Summer Scoop smells of sweet strawberries with yummy whipped cream, two of my favorite smells. I firmly recommend this one to you for summertime! Also, if you are a lover of sweet scents, summer scoop is perfect for you!
4. Watermelon Lemonade Bath and Body Works
- Bath and Body Works also known as the candle shop of dream really is the best place to buy whichever your heart desires! One of the most recent ones I really love this summer, is the watermelon lemonade. The name basically speaks for itself, it is a blend of watermelon and freshly squeezed lemons and it is just amazing! If you are a lover of watermelon, like I am, you'll love this one!
5. Yankee Candle Blue Summer Sky
- '' Under a bright blue sky, breathe the clean, earthy, airy scent of a heavenly summer day '', this is the description of this fragrance and I couldn't agree more with it! Whenever I light it, it reminds me of a nice summer day with a light breeze and the smell of the beach in the background! It is enriched with summer berries, saffron and fresh ginger. I especially love it, because ginger is one of my ultimate favorite scents! So light and fresh, perfect for summer days with blue skies :)
6. Diptyque Beverly Hills Candle
- Diptyque Beverly Hills Candle is slightly more expensive than the others,selling for 70$, but so worth the spend! It is a luxurious candle inspired by the iconic city of LA! It is a floral citrus that gives a fresh summery beach vibe and it is just perfect! Also the packaging is so beautiful, with its blue and yellow tones. You could spend a lot of money and actually go and visit Beverly Hills or you could light this candle, close your eyes and already be there!
7. Jo Malone White Lilac & Rhubarb Candle
- Jo Malone is the brand I have been introduced to by watching Zoe's videos and I have loved it ever since! This white lilac & rhubarb candle is surely a perfect summer essential! It reminds me of a garden party with a barbecue or a picnic with the family. It also makes an amazing present, because the packaging is simply adorable!
8. Tiki Mango Mai Tai
- Tiki Mango Mai Tai candle from Bath and Body Works is my personal favorite from this list, as I am a huge mango fan and it is my favorite fruit and scent! This candle is a tropical blend of mango nectar, jasmine flower and grapefruit, all of the best summery smells! Just close your eyes and you can be in a tropical island in Hawaii, lying on the sunbed and getting a tan!
9. Yankee Candle Beach Holiday
- I told you I am a Yankee candle addict, so I had to include another one from them on this list! Beach holiday has a great smell, nothing over the top or too over powering. It is just beautiful, very clean, fresh and lovely. Considering I love walking by the beach, this seaside smell has to be another ultimate favorite for me!
10. Georgia Peach Bath and Body Works Candle
- Last, but certainly not the least is another candle from Bath and Body Works the Georgia peach candle! Another gorgeous scent, I have discovered recently and absolutely loved! There's nothing sweeter than the smell of delicious peaches and a hint of vanilla, right? A must have for summer!
That would be it for my summer candles list. What are your favorite candles and smells for the summer? Love, M xx